Replacement Covers for Most Brands of Hoop Buildings
New Covers for Hoop Barns
We make new covers for almost ANY BRAND, ANY SIZE, and ANY COLOR hoop building. We make custom color and color combination fabric building covers. 
Our standard replacement covers are 12.5 oz. polyethylene, rip-stop webbing with added UV resistance.
Our hoop building covers as well as hoop barn replacement covers are made of polyethylene plastic. This fabric is not a canvas tarp but consists of woven poly strips which make up the core and poly sheets which make up the two surfaces. The tarp will not rip or tear easily because the core is interwoven.
All of our fabric building covers are also UV treated. They can manage constant outdoor exposure and will not degrade from the harmful rays coming from the sun. The UV treatment also extends the service life of our covers.
Polyethylene covers are also more waterproof than canvas building covers. Water cannot penetrate through these covers.
Many people ask us how long they can expect their cover to last. Where we are located in the Upper Midwest you can expect your cover to be serviceable for 15 to 20 years. However, cover life largely  depends on how hot a place is. Hoop building covers in areas such as Florida, Arizona, Texas and Southern California, will have a shorter service life.
We also make fire-resistant fabric covers . We make covers for high tunnels and all types of side curtains for livestock buildings as well as all types of livestock and agricultural shade structures.
We can also be enticed to make covers for things other than hoop structures. Pretty much, we've got you covered.
It's an unfortunate fact of life that hoop barn covers wear out or otherwise need to be replaced. Whether a building's exterior is clapboards, shingles or even steel, they need maintenance and, eventually, replacement.
How to Measure for a Hoop Building Cover
Careful Measuring is Required!
We understand that you can't always have all the information we need, maybe you just got this frame at the auction or the tornado took your cover, but the more info, the more accurate the quote. We will not actually make a cover without at least most of this information.
Once you know what we need, it's as easy as A, B, C!
Let's just started with the basics: write down your building manufacturer (if you know it) and nominal size; i.e. Sioux 30′ x 60′.
If your building is a Rushmore, that's it! We can take it from there. If not, it's time to proceed to the building and get some measurements. For most buildings, a 100′ foot tape, a length of rope and a helper comes in handy here.
For the "A" measurements, we just need 1) the total length of the building and, 2) the spacing of the trusses or bows apart, center to center.
While you are doing this, note how your building is fastened down on the length of the building. Do you have pipe and ratchets or D-rings and lacing? If it's D-rings, how far are they apart? If pipe, are the ratchets fastened inside or outside of the building?
Moving along to the "B" measurements, the first one is the hardest. We need the measurement of the arc of your building.
One way to do this is to tie something to the end of the rope, toss it over the hoop, and have your helper hold it at the bottom of the pipe pocket or where the D-rings attach to the cover bottom. Now, mark that spot on the rope on your side, pull the rope back off the building and measure the distance.
Now that's done, measure across the width of your building from frame bottom to bottom. Pull the rope across and measure to the middle of the building, then straight up to the peak. DO NOT include the height of the ponywall.
Now, you only need to measure any flap of cover that hangs below where your building is attached to the sides (ground flap) and how far the cover comes over the ends of your building(conestoga ).
While you are doing the conestoga, note how it is fastened. Is it steel cable in the pocket or a strap? Maybe you have D-rings and we will need to know the spacing of those.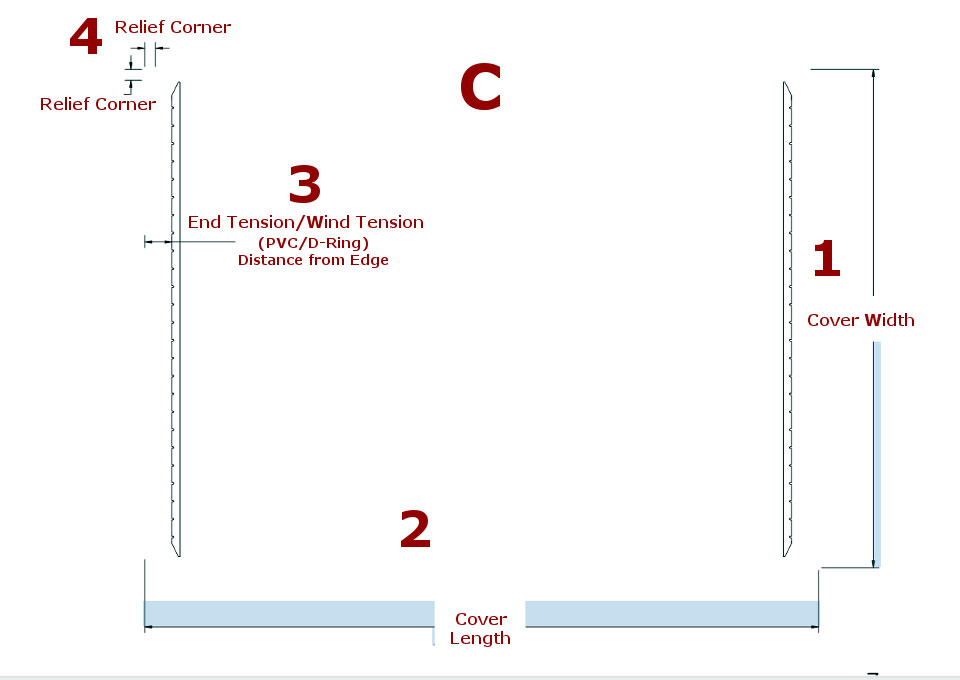 Part "C" is most easily done if you can pull the cover off and lay it out to measure it. Otherwise, you just have to give it your best shot. The important thing to note here is if and how your cover is attached at the end rafters of the building.
Just Need a Quick
Ballpark?
If you'd prefer a more accurate quote, you can just put all the required measurements in the message box and hit send.
*Starred fields are required.