36' Wide Mono-tube Hoop Building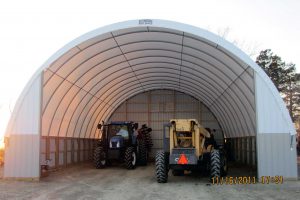 Rushmore's 36′ hoop barn kit is our "go to" in fabric quonset buildings. It is an economical building per square foot, built tough for a single pipe rafter shelter and is suitable for so many purposes. Whether your need is hoop barns for cattle or you're looking to use a fabric building for a temporary building in construction, this is an economical solution, even for storage buildings.
The term "monotube" means that the rafters are a single, round, heavy gauge pipe. This 36′ wide hoop shed has rafters that are spaced 5′ apart and connected with 4 rows of purlins. The minimum length we are offering is 25′ but the maximum length is any increment of 5′ you desire.
This model is also a "ponywall" building. It is designed to be erected on posts or a concrete wall. A 4′ high ponywall is the industry standard. If you put your building on a 4′ wall, the overall peak height would then be 18'10". Wall height and material is flexible but please let us know your plans so that we can advise you with the correct mounting brackets. Your elevation must be at least 24″ tall to properly tension the cover.
These utility hoop buildings are easy to erect. They have smooth, slip-fit joints that require no tools and make assembly easy and quick. Complete instructions and hardware are included in your hoop building kit and we are here to answer any questions you may have.
There are many options available for both the main arched building cover and the hoop building end. These include many color options, including cover logos, as well as venting and door choices.
Some of the Available Options include:
Available almost any length you want
Wind upgrade kit with ratchets rather than D-ring lacing
Ratchet and mounting plate upgrades
Roll-up doors
Ridge and window vents, and
End walls with and without supports.
| | |
| --- | --- |
| Width | 36′ Interior width from wall to wall |
| Peak Height | 14'10" plus height of wall |
| Tensioning System | Pipe with ratchets at each rafter and end |
| Cover Material | Tear resistant high-density polyethylene |
| Cover Weight | 12.5 oz. |
| Rafter Material | USA-made Gatorshield® structural steel |
| Pipe Gauge | 12 ga. |
| Pipe Diameter | 3″ |
| Rafter Spacing | 5′ |
| Cover Material Warranty | 15 year pro-rata |
| Included | All hardware and lag bolts for post attachment |
| Not Included | Posts or walls, rub rail, baseboards or concrete anchors, assembly |
| Downloadable Specs | Click Here |
Interested in this building?
Get a Quote on This Building

If you just want a general idea, play around with our new tool. Note not all building sizes are available (you can go to any length) and sale prices are NOT reflected (5% until 5/31).
*  Starred fields are required. Please use the message box to let us know about special needs like roof vents, feed awnings, doors, etc.